Beyond the Edge is owned and run by Chris and Alex. A small team of other instructors assist, most notably Hati who runs the BtE office.
Alex Ekins has been climbing, instructing and leading expeditions internationally for over 25 years. A holder of the Mountaineering and Climbing Instructor Award (MCI), Rock Climbing Instructor Award and the Winter Mountain Leader Award, Alex is one of the UK's most experienced trainers and assessors having directed over 100 Rock Climbing Instructor courses and a significant number of Hill and Moorland Leader Awards and Mountain Leader Awards. As a rock climber he has climbed on six continents.
Alex is also recognised as one of the worlds best adventure photographers and photojournalists with images published in The Times, The Guardian, Le Monde, The Economist, Rock and Ice, The Financial Times, Climbing, Summit and National Geographic. Alex was the photographer on the historic Randall and Whittaker 'Wideboyz' 1st ascent of Century Crack in Utah.
Chris Allewell has been working in the outdoors for over 25 years. This has been interspersed with senior management and CEO roles in training and development both within the UK and internationally. He has over 40 expeditions to the Greater Ranges and has pioneered new routes in the Himalaya and New Zealand Alps. His greatest claim to fame is multiple first ascents on the popular cliffs of the Falkland Islands!
Chris has spent a significant amount of time living remotely in mountains, deserts and jungles around the world and, having climbed and instructed on every continent, brings a huge diversity of experiences to his work. He is also a member of Edale Mountain Rescue Team. Chris is passionate about the environment and a keen amateur naturalist. He is a Fellow of the Royal Geographical Society and holds a plethora of outdoor and management qualifications including the Rock Climbing Instructor award, Winter and International Mountain Leader awards.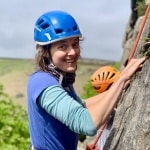 Hati runs the office and will likely be the first person you chat to at Beyond the Edge. Hati has been coaching climbing for 7 years, interspersed with a few 'sabbaticals' to European climbing destinations, and has worked with young people in a variety of roles (both outdoors and in) ever since she was a young person herself. 
When she's not instructing on our Rock Climbing courses or Family Adventure days, Hati is usually out climbing, walking and running in the Peak District and beyond. She enjoys big days out, long multi-pitch routes and endurance challenges, a more recent accomplishment being the Stanage VS Challenge – 36 Stanage classic routes in a day.
Hati is also an avid wordsmith and has written previously for Alpkit and UKClimbing.com. Her reviews, musings and advice now help populate the BtE blog.
For a lot of our courses we base ourselves at The Sir William, a comfortable hotel in Grindleford in the heart of the Peak District.
Our courses generally start with a chat over a complimentary tea / coffee and cover any theory and watch instructional videos in the warmth of our training room before heading outside and putting things into practice in the great outdoor classroom on our doorstep.