Summer Mountain Leader Award Overview
Following the Government announcement on 28 May we are now making a phased reopening. Private individual and small group bookings are now available.  Mountain Training have not yet authorised Mountain Leader courses to run.  These are likely to run from July onwards.
"…Alex and Chris were brilliant, and together delivered a Summer Mountain Leader Award training course packed full of practical, real world advice and the kind of insight which only comes from years of personal experience". Joe, Sheffield.
The remit of the Summer Mountain Leader Award is huge, from wild camping in remote locations, to easy scrambling over some of the UK's most famous mountain routes. In fact, the Summer Mountain Leader Award allows you to go anywhere in the UK under summer conditions and where the use of the rope is not planned.
The Summer Mountain Leader Award is therefore a really valuable leadership award and is seen as the essential qualification for individuals who want to work in the outdoors. The training course is also a brilliant course for mountaineers and hillwalkers to develop their knowledge and skills whilst being brought up to date on current best practice in summer walking, even if they do not intend in taking the assessment.
Beyond the Edge courses are highly informative and run by highly qualified and hugely experienced trainers who have been leading groups in the mountains in both summer and winter conditions all over the world for many years. Importantly in our opinion, they are also huge fun and run in a friendly manner. We take great pride in the very high percentage of individuals who return for further courses.
If you are just starting your journey towards the Summer Mountain Leader and want to find out how to register etc, just click on Mountain Leader Award Training link below and it will explain everything you need to know.

"I would like to take the opportunity to thank you all for a great Summer Mountain Leader Training course. I throughly enjoyed every minute thanks to your ability to promote a learning environment conducive to building confidence and highlighting development needs in a supportive manner.
The invaluable input you gave and passing on of your in depth knowledge, experience, advice and skills will assist greatly, not only in my journey towards passing my Mountain Leader assessment but in my personal enjoyment of the mountains and wild outdoor environment. Hopefully enabling me to pass on the knowledge and skills to others in the future". Adrian, Inverclyde.
Summer Mountain Leader Award Training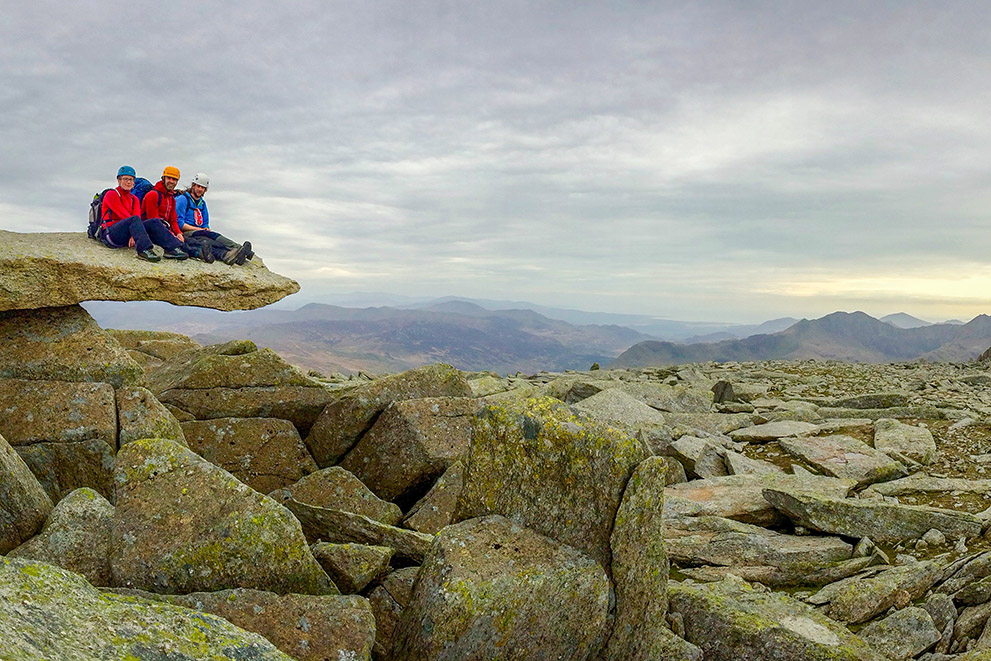 The Summer Mountain Leader Award training course in either a split date (3 days Peak District and 3 days Snowdonia) or standard 6 day format (Snowdonia). It is highly rewarding, packed with information and delivered by highly experienced instructors.
Summer Mountain Leader Award Assessment
The five-day Summer Mountain Leader Award assessment looks at all aspects of the award. Our relaxed and highly experienced instructors will put you at ease so you can perform to your best, learn and develop.
If you need a quick refresh or reassessment on any aspect of the Mountain Leader Award syllabus we would be delighted to help you out. Please contact us to discuss your requirements. A common area for further development is navigation, and you may want to look at our navigation courses to help in this area.
For groups of 4 or more walkers, bespoke dates and locations can be arranged for both training and assessment. Please contact the office for more information.