Overview, Course Information.
Cost:
£195 for 1 instructor
With some of the best climbing the UK has to offer right on our doorstep we can provide a brilliant introduction to the vertical world, both in ascent and descent. It's a fantastic day out just for fun or as a team building day.
From the fundamentals of movement and balance, to the more technical aspects of anchors and abseiling, this taster day covers all the basics for you to be enthused about rock climbing and start experiencing climbing on your own.
Particular emphasis is placed on safety and the correct use of equipment (which we provide). Once basic safety systems have been learnt, participants will be encouraged to go at their own pace, climbing routes within their ability, and hopefully, become inspired to pursue the sport further.
This activity is accessible to everyone, whatever age or level of ability.
All taster days are privately guided with a maximum of 6 clients to 1 instructor.
You can elect to receive certification from Mountain Training (National Governing Body) for completing the course. To do this, you need to register with Mountain Training a minimum of two weeks before the course.
Bespoke Dates
As this is a bespoke adventure, you set the date. Just contact the office and we will arrange the day.
Format of the Day
The days is flexible to suit your desires and the prevailing weather conditions. We will meet at a time and place of your choosing (or 0900 at The Sir William hotel in Grindleford) to plan the day before heading out to the crag.
Equipment
The fee includes the use of all specialist equipment and training materials.
What to wear
Several different layers will give you the most flexibility to stay warm. A thermal or T shirt followed by a sweater or fleece and a waterproof jacket. Please don't wear anything valuable (including jewellery) as Gritstone is not a particularly gentle rock (it used to be used for grinding wheels and is very rough). Gloves are worth bringing and a warm beanie style hat – ones with a bobble will not fit under a climbing helmet.
On the bottom half, strive for flexibility in motion for pulling off that epic move. So yoga trousers, jogging bottoms etc are great and jeans are not (they also take ages to dry if there is a rain shower).
Strong trainers or light hiking boots are best on the feet. No sandals or similar with exposed flesh – think grinding wheel again.
We will ask you to remove all rings and other external jewellery when climbing so that it does not get caught on the rock and injure you. Its usually sensible to leave anything you have in a safe place before you arrive.
What to bring
Food & drink for the day
Warm and waterproof clothing
Gloves
Personal first aid kit (for headaches, blisters and minor cuts)
Sun cream
Insect repellant
Camera
Spending money
Related Courses
If you have slightly more time you may be interested in taking the Introduction to Rock Climbing course to provide a thorough grounding in climbing. Speak to the office for more details.
Accommodation
This Beyond the Edge course is non-residential to allow you to select between a thermarest or 5 star hotel as you require. There is lots of accommodation in the Hope Valley and we recommend The Sir William which offers BtE clients a discounted rate (code given on booking) and we often start courses from here. There are other local pubs, B&B's and also YHA's in the villages of Hathersage, Eyam and Castleton. Popular campsites include North Lees under Stanage Edge and Pindale Farm
Booking & Related Courses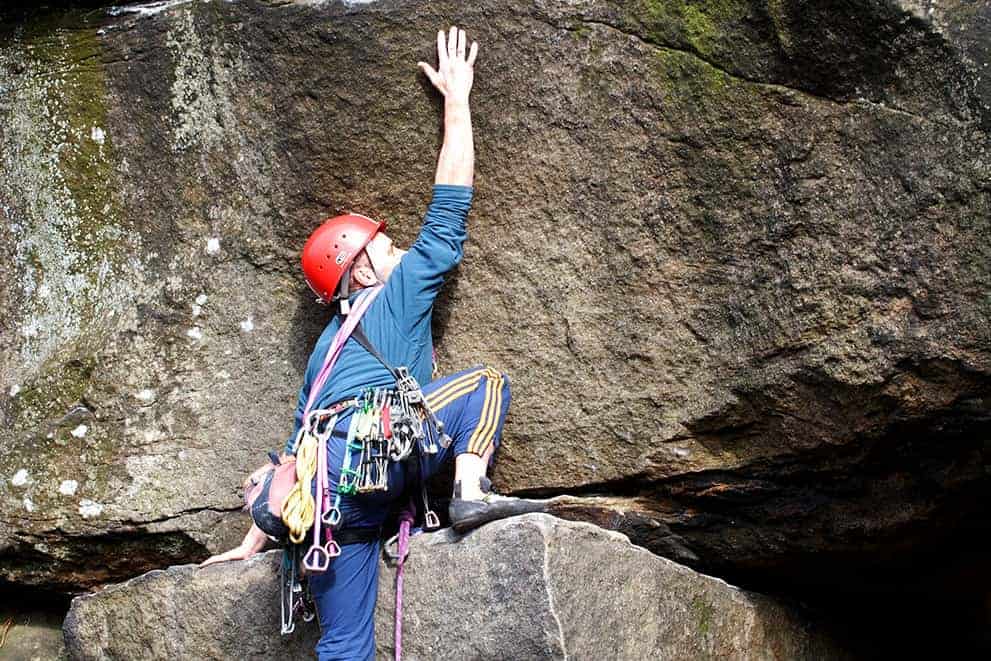 Book a taster day
Rock Climbing Introduction
Discover Scrambling Week